Pinal County Has Infrastructure In Place To Handle Development Boom
PINAL COUNTY, AZ – May 15, 2020 – STEVE BURKS
A little patience and a lot of planning is beginning to pay off in Pinal County.
Public officials and private companies with the same vision have laid the groundwork, literally, for economic growth in the county. The towns and cities in the county have invested millions in infrastructure projects like roads and water and sewer; while private companies also put their money into ensuring there was ample electricity and plots of land to build on. Combined, those entities have created an environment that is ripe for an explosion of development.
"The private sector has really stepped forward and set the groundwork for business development down in Pinal," said Jackob Andersen, president and CEO of Saint Holdings, which is leading the development initiatives in Pinal County. "Being ready and having shovel-ready projects with infrastructure in the ground, that's how we win projects like Lucid Motors, like Nikola. It was water, power and sewer, ready to go, right on site."
Private utility companies like SRP, APS, Tucson Electric Power have put in substations and generating stations in the county in the last decade. SRP's Coolidge Generating Station, which has a 575 megawatt capacity, was completed in 2011, just 10 years after SRP opened its Desert Basin Generating Station in Casa Grande. And both APS and SRP have a major solar generating presence in the county, with the APS Saguaro Power Plant and the SRP Pinal Central Energy Center.
"One of the things that site selectors tell us that there's a lot of factors other than the price, how much infrastructure do they have to build?" said Tim Kanavel, economic development program manager for Pinal County. "A lot of those things are already in place in Pinal County. We've got more electricity in this county than we know what to do with. We're juiced up."
Cities in the county have also done their part with key services like water and sewer delivery and treatment.
"The council did something before the recession in 2007 or 2008, they decided to expand our wastewater treatment plant," said Casa Grande Mayor Craig McFarland. "They doubled the size of it and spent a lot of money on an expansion and that really has also set us up for success. If we didn't have the sewer capacity, we wouldn't be putting in a Lucid Motors plant."
McFarland also touted the fact that the county has three major gas pipelines running through it, as well as a major rail line.
Coolidge city manager Rick Miller said the rail line that runs through the county was a big part of the reason Nikola Motors decided to build its first manufacturing facility in the area.
"That was one of the real good things about the location they chose (in the Inland Port Arizona industrial park, which is in Coolidge boundaries)," Miller said. "Everything follows infrastructure and the backbone for a lot of these companies is either rail or your interstate access for their transport."
The gas lines are the major reason that Casa Grande was able to lure Nacero Inc. into the city. The company plans a $3 billion facility that will convert natural gas to gasoline to use in motor vehicles.
Readily available gas, electricity, railroad lines and water are all things that developers look for and are major draws for economic generators. Another major piece to the infrastructure puzzle is roadways, and the county and its communities is working to stay ahead of developers and the influx of new businesses and residents.
In 2015, the county launched the Pinal Regional Transportation Authority. The PRTA created a 20-year comprehensive plan that will put more than $640 million into improving the roads in the county.
"Pinal County has paved 112 miles of dirt road (completed maintenance on 650 miles), built several roads (Hunt Highway, Ironwood Drive, Gary Road, etc.,) and multiple vertical structures in the last few years," said Andrew Smith, deputy director of Pinal County Public Works. "Infrastructure is important as this will encourage and improve the site selection for future economic development. It also improves livability, safety and quality of life."
Pinal County was awarded a $15 million Better Utilizing Investments to Leverage Development Transportation Discretionary Grant in 2019, according to Andersen. He said that the money will be used on improvements to the infrastructure around the Inland Port Arizona industrial park in Coolidge, which is where the Nikola Motors manufacturing plant will be located. Work will be done to widen Hanna and Houser roads that lead into the site.
"The one thing we have done and kept up with is managing our roads," said McFarland. "We have a program that we use that tracks the quality of our roads, so it's helped us manage, even with the lack of funds from the state. I think for a city our size, our roads and our infrastructure is in pretty good shape."
What needs does the county have
The largest and most glaring infrastructure need in the county is one that it really can't do a lot about: Interstate 10. The main north-south transportation corridor into Pinal County is in dire need of widening. The interstate is just two lanes going each direction for a 26 mile stretch between the Queen Creek Rd. exit and Casa Grande. Currently, traffic on that stretch is very heavy, and any increase in the number of travellers would have a major impact on commute times through that corridor
"Already, as you travel in that area, you can see that the road is in disrepair and it can get downright dangerous sometimes," said Andersen. "And, anytime there's an accident, the traffic just comes to a complete standstill.
"It is imperative for the future growth in Pinal that we see that road improved."
The Arizona Department of Transportation is working on plans to widen that stretch of the interstate and has been meeting with the Gila River Indian Community, which controls the right-of-way for this portion of the interstate that runs through Tribal land. Publicly, the GRIC has expressed agreement that expanding this portion of the interstate is vital and is working with ADOT to come up with a plan that will won't negatively impact life on the reservation.
Another infrastructure need for Pinal County and future development is more fiber-optic lines running into the major industrial parks. Currently, the county has a few lines that go around GRIC land, if those lines could come directly from Phoenix (along the I-10 corridor) that would open up the county to more connectivity and make the county an more attractive location for high-tech companies and data center developers.
"We're not directly connected to the Phoenix market for fiber optic line because that I-10 corridor runs through Tribal land and it is owned by the Tribe, so you can't do anything on that corridor," McFarland said. "Our only option is to go around. We've been working with the Tribe, and I think with the expansion of the I-10 corridor, we might see improvement on that.
"That's a key for the future growth in the county: The widening of I-10. If we don't get that widened and we continue to see this growth, I think that will be a major speed bump."
Major Pinal County project updates
Lucid Motors Manufacturing Plant
In the first quarter of 2020, the long-awaited advanced car manufacturing facility in Casa Grande began to really take shape. The exterior of the two buildings, which total 820,000 square feet, is nearly complete as of mid-April, as construction teams made tremendous progress on the site. In February, Lucid Motors CEO Peter Rawlinson toured the facility, which was primarily exposed steel framing at the time. Work is reportedly ahead of schedule and in a blog on the Lucid company website, Rawlinson said, "This purpose-built factory will serve our needs precisely because — as with the Lucid Air itself — there were no constraints on designing it exactly as it should be. Seeing these vast, multistory structures rise according to plan confirms that we are indeed on track to begin production here later this year."
Rawlinson also noted that Lucid will use 67,400,000 pounds of concrete and 11,353,800 pounds of steel in 4,316 prefabricated pieces to build the factory. The company hopes to see the first electric vehicles roll out of its plant before the calendar turns to 2021.
Nikola Motors Manufacturing Plant
While Nikola has already established a research and development facility in Phoenix, the company's 1 million square foot manufacturing plant is still in the planning and design phase. The plant will be located in the Inland Port Arizona industrial park in Coolidge, just west of State Highway 87 on Hanna Road. Jackob Andersen, president and CEO of Saint Holdings, the developer of the Inland Port Arizona, said the plant is on track to break ground late in 2020 or early 2021.
Attesa
In December, Attesa submitted its final site plans to Pinal County for its Arizona International Raceway complex. The motor sports racing facility will be located on 2,300 acres in Casa Grande, just south of Interstate 8 and west of Bianco Rd.  The motor sports facility will be built in two phases, with the first being a 2.65 mile professional track with 16 turns and elevation changes. Phase 2 will add another 1.6 miles to the track and include the addition of a driving school and an off-road track.
The track will operate based on membership plans. Members will have access to the track 20 days a month, as well as have access to private garages, an RV park and more.
Danrick Builders hopes to break ground before Summer.
Nacero Inc. Manufacturing Facility
In late March, Nacero Inc. announced its plans to build a $3 billion facility that converts natural gas to gasoline. The facility will be located on Maricopa-Casa Grande Highway in Casa Grande, across from Abbott Nutrition and Frito-Lay facilities.
The company said it hopes to begin construction on the facility in 2021 and be completed over several phases by 2025. The plant will produce 35,000 barrels per day of cost-competitive, lower carbon footprint, zero sulfur gasoline.
According to Nacero, the project will generate an estimated 2,000 jobs during construction, 265 high-paying, permanent jobs in rural Arizona after completion and give Arizona a measure of gasoline independence and supply diversity for the first time.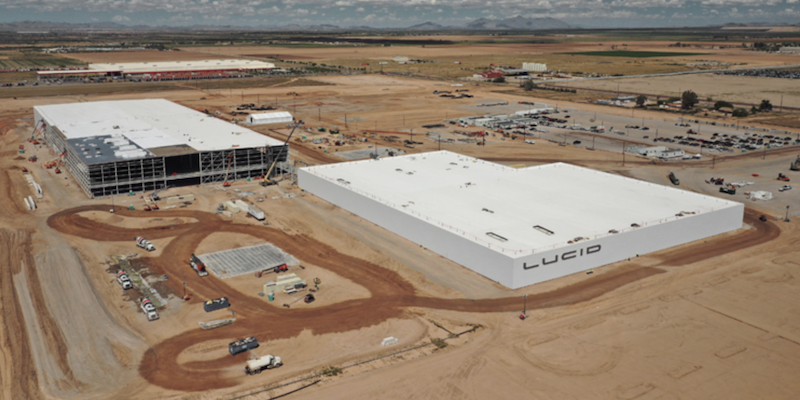 Above: In the first quarter of 2020, the long-awaited Lucid Motors Manufacturing Plant in Casa Grande began to really take shape.
(Photo by AZ Big Media)