Harvard Investments Set to Relaunch Residential Project in Maricopa
PHOENIX, AZ – September 3, 2020 – ANGELA GONZALES
Harvard Investments Inc. is relaunching a $150 million master-planned community project in the town of Maricopa, a 30-mile drive from Phoenix Sky Harbor International Airport.
The Scottsdale-based developer had teamed up with Meritage Homes Corp. (NYSE: MTH) in 2008 to buy 640 acres at auction. Originally, Scottsdale-based El Dorado Holdings Inc., the developer of the city of Maricopa, sold that land to a joint venture between Meritage and the now-defunct Hacienda Homes in the early 2000s.
The Meritage-Hacienda joint venture had installed much of the infrastructure and Scottsdale-based Meritage had begun building homes there, said Tim Brislin, vice president of Harvard Investments. But when the Great Recession decimated the Valley's real estate industry, the property went into foreclosure.
While Meritage continued to build homes there, Harvard Investments sat on its 425-acre parcel until 2014 or 2015. His team has since updated the site plans to include a 2-acre park near the lake.
"Maricopa was starting to show some signs of life," Brislin said. "We started picking up the plans again."
By 2019, Brislin figured the market was ready to begin development.
"We couldn't force it any sooner than we did," he said. "It is a unique property."
Over the past 10 months, Harvard sold 606 lots to four homebuilders, with 179 lots going to Meritage Homes, 149 going to Richmond American Homes, 110 to Gehan Homes and 168 to D.R. Horton.
Nathan & Associates handled those transactions.
Called The Lakes at Rancho El Dorado, the project is down the street from The Duke at Rancho El Dorado Golf Club as well as near the Copper Sky Recreation Complex.
Home prices and lot sizes will vary by builder, with Meritage Homes starting in the $220,000s offering up to 2,280 square feet in one and two-story options. Richmond will start in the low $300,000s with square footage ranging from 1,690 to 2,980 square feet.
There will be premium lake lots with attached RV garage options, multiple floor plans as well as off-lake neighborhoods and park amenities, Brislin said.
With the sale of those 606 lots, Harvard Investments has about 1,090 lots remaining to be developed in the community, Brislin said.
Mike Ingram, the founder of El Dorado Holdings who developed the town of Maricopa, said the town is growing again.
"Homebuilders are back buying land and lots in Maricopa for the first time in 12 years," Ingram said.
Spanning 27,520 acres — or 43 square miles — Maricopa has about 21,000 homes with a population of 54,000 people.
There's still about 6,500 acres in western Pinal County that hasn't been built out yet, Ingram said.
"A lot is zoned," he said.
In the early 2000s, Maricopa was considered one of the fastest growing cities in the nation, Ingram said.
"Things came to a halt during the recession starting in 2007-2009, and slowly picked back up starting in 2012," he said. "Today's housing market is strong and Maricopa has averaged 76 single-family home permits per month in 2020, with 129 issued in July."
This park will be part of a new community developed in Maricopa, a 30-mile drive from Phoenix Sky Harbor International Airport.
(Photo by Harvard Investments, Inc.)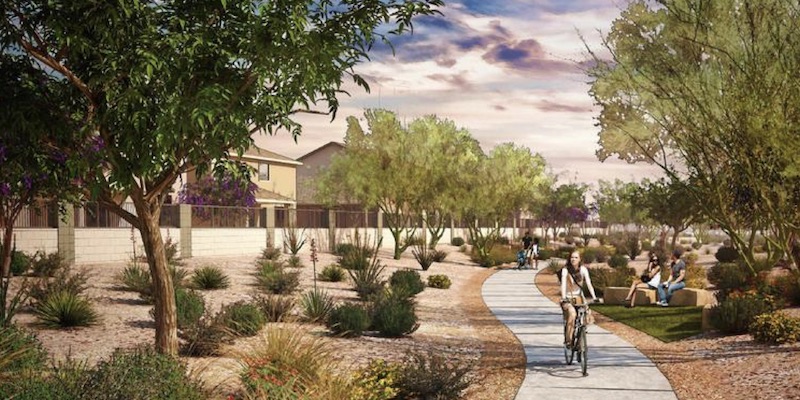 The Lakes at Rancho El Dorado in Maricopa spans 640 acres.
(Photo by Harvard Investments, Inc.)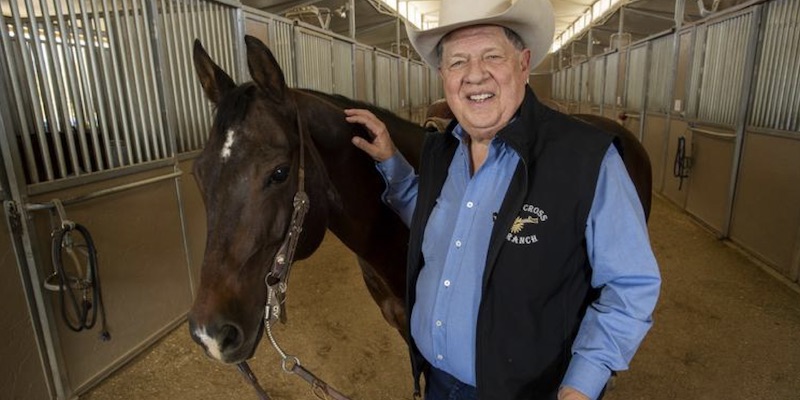 Mike Ingram, chairman and CEO of El Dorado Holdings Inc., is the founder of the city of Maricopa in Pinal County.
(Photo by Jim Poulin, Phoenix Business Journal)