Groundbreaking Ceremony Scheduled for New Business Park
MARICOPA, AZ – October 21, 2020 – CITY OF MARICOPA
Join developer Joe L. Cook, My Home Group (MHG) Commercial, Construction Solutions Company (CSC) and the City of Maricopa on Friday, October 23 at 9 a.m. at 45654 W Edison Rd and be a part of a historical moment as the City breaks ground on Maricopa's first wholly job-centered development, Estrella Gin Business Park!
This 30+ acre business park will be the hub for business development and growth in the City of Maricopa. The Estrella Gin Business Park is an Arizona Commerce Authority Certified Gold Site, making it truly shovel-ready.
Growth in the City of Maricopa is outpacing available space and there is an employment base eager to reduce their commuting times within the Phoenix Metro Region. Estrella Gin Business Park is ideally located less than half a mile from State Route 347, Maricopa's main thoroughfare, and the City has extended Edison Road through the site to State Route 238 to enhance highway access. Also ideally located directly across from the City's Fire Administration and Public Services Buildings.
The business park will consist of leased and build-to-suit space across multiple product types including Office, Flex/Manufacturing/Retail, and Warehouse/Distribution.
We ask that all attendees please maintain social distancing procedures as well as recommend that facial coverings be worn. Masks and gloves will be available on site as well.
What: Estrella Gin Business Park Groundbreaking
Where: Just west of the intersection of Edison Road and Roosevelt Avenue across from Fire/Medical Station 575.
When: Friday, Oct. 23 at 9 a.m.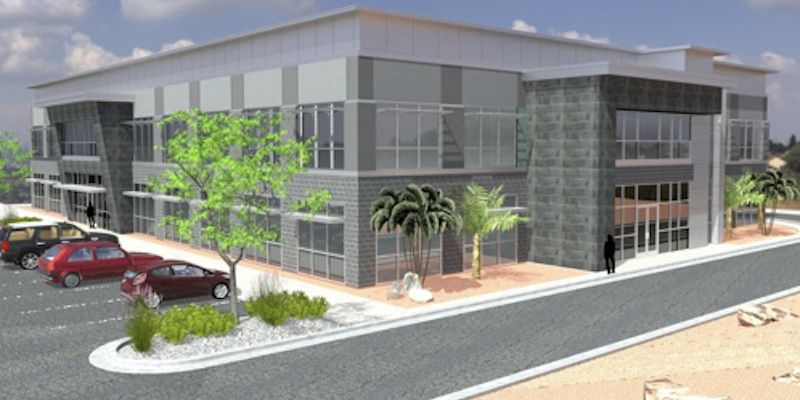 (Photo by City of Maricopa)