City of Maricopa Welcomes James Hughes as Chief of Police in Change of Command Ceremony
MARICOPA, AZ – January 7, 2021 – CITY OF MARICOPA
The City of Maricopa and the Maricopa Police Department honored former Chief of Police Steve Stahl and welcomed his successor, Chief James Hughes in a Change of Command ceremony conducted last night in City Council chambers.
Mayor Price along with members of City Council gave their thoughts and thanks to the departing Chief of Police in an emotional display prior to Chief Hughes taking the Oath of Office.
"I wanted to say thank you to Chief Stahl for all of his years of dedicated service to our community," said Mayor Price. "I can't think of a more deserving to take the helm now than Chief Hughes and we are extremely grateful to you, your family, and for all that you're about to embark upon."
Former Chief of Police Steve Stahl spoke about his tenure and recognized the hard work and dedication of his staff that assisted in his success making the city of Maricopa one of the safest cities in the state. Chief Hughes was recognized and honored by the departing Chief of Police before Judge Lyle Riggs performed the Oath of Office. Newly sworn-in Chief Hughes took to the podium and honored those he served with as well as recognizing his duties under this new responsibility.
"My responsibility is to provide my employees with the resources and tools to make them successful and recognize the sacrifices they make on a daily basis," said Chief Hughes. "My job is not about me, it's about my employees and I will make it my utmost duty to support them."
The entire Change of Command ceremony is available on YouTube.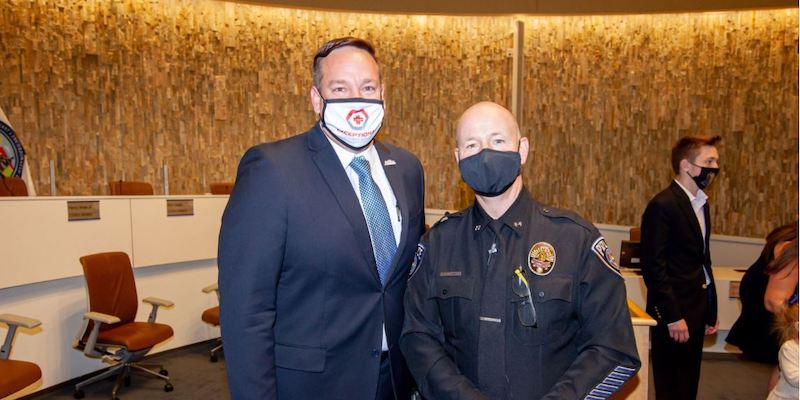 (Photo by City of Maricopa; Victor Moreno)