Maricopa's economy is thriving, in large measure because the community is a great place to live. This also means that Maricopa is a great place in which to locate, expand or grow a business. Increasingly, Maricopa's economic base is diversifying as the community moves from being a 'start-up' city to one that is maturing rapidly into a well-rounded place in which to live, do business and work.
Maricopa's thriving economy not only helps grow the tax base, but also means that it's a great place to attract and retain first-rate talent. And the economy's increasing diversification means that more and more highly educated professional workers and entrepreneurs are establishing their careers and enterprises in Maricopa.
Top Industries for Employment
The economy of Maricopa, AZ employs about 25,217 people. The largest industries in Maricopa, AZ are Services (43.0%); Finance, Insurance and Real Estate (10.8%); Retail Trade (10.1%); Manufacturing (9.8%); Transportation and Utilities (8.2%); Construction (7.0%); and Public Administration (5.9%).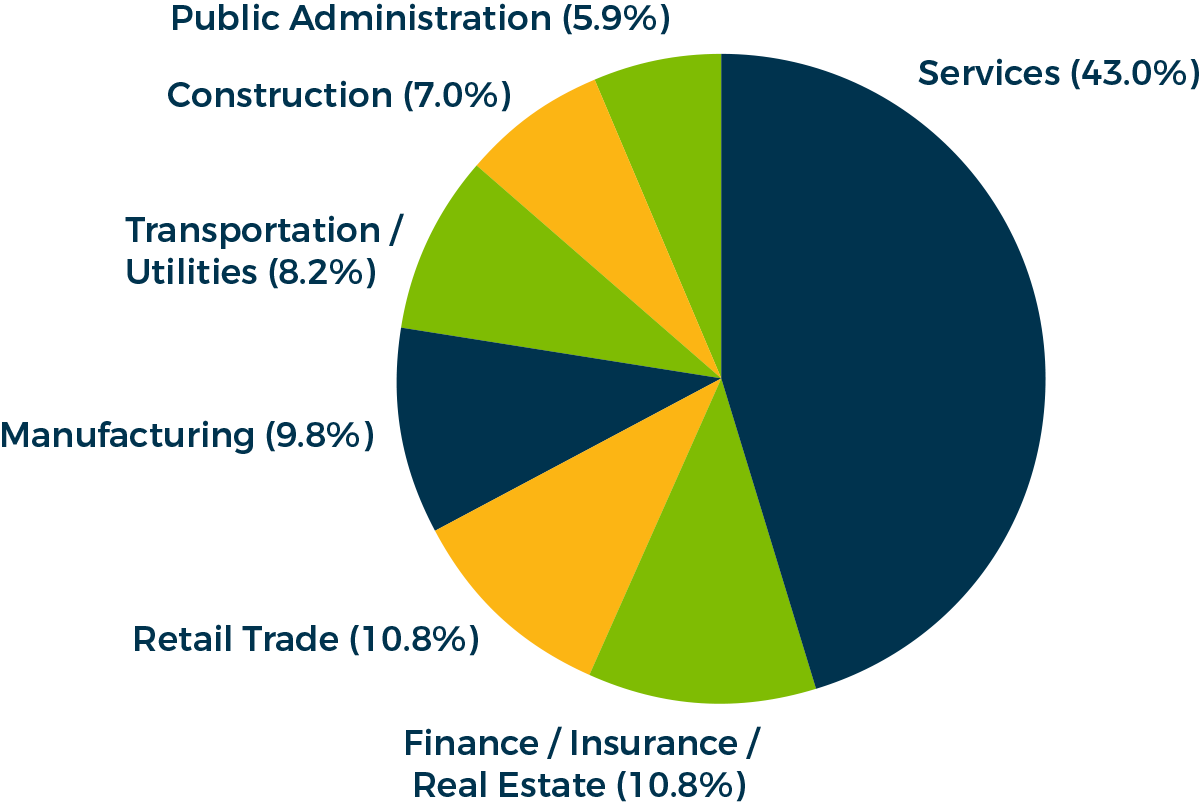 (Source: ESRI, Estimates July 2021)
Major Employers in Maricopa, Arizona
| | | |
| --- | --- | --- |
| Rank | Business Name | Employees |
| 1 | Harrah's Ak-Chin Hotel & Casino | 800 |
| 2 | Maricopa Unified School District 20 | 670 |
| 3 | City of Maricopa | 400 |
| 4 | Walmart | 250 |
| 5 | Pinal County | 200 |
| 6 | Volkswagen Group of America, Inc. | 150 |
| 7 | Ak-Chin Indian Community | 120 |
| 8 | Stanfield Elementary School District 24 | 120 |
| 9 | Fry's Food Stores | 110 |
| 10 | Sequoia Pathway Academy | 100 |
| 11 | McDonalds | 90 |
| 12 | Ak-Chin Circle Entertainment Center | 90 |
| 13 | Legacy Traditional School | 80 |
| 14 | Native Grill and Wings | 80 |
| 15 | Bashas | 70 |
(Source: Arizona COG/MPO Employer Database, 2019/2020)
Key Economic Sectors
Click on the icons below to learn more about each sector.
New & Emerging Projects
La Quinta Inn & Suites
As of Summer 2019, the City of Maricopa was unable to provide non-casino, overnight lodging accommodations even though there are now more than 54,000 people who call Maricopa home.
Although it is primarily a residential community, Maricopa is home to both Nissan's and VW's proving grounds, USDA and University of Arizona research facilities, a convention center at Harrah's Ak-Chin Resort and Casino, an entertainment and events center at the Ak-Chin Ultrastar Multi-tainment Center, Copper Sky Recreational Complex and Apex Motor Club, all of which bring in national and international visitors and sporting events, as well as a growing retail and restaurant sector. Maricopa was in great need of hotel rooms to accommodate business and leisure travelers!
Recognizing this need, the City of Maricopa commissioned a hotel feasibility study in early 2018 to help attract a hotel into the city. Over the years, with prior such studies, several well-known hotel brands had been in the works but did not come to fruition. Ultimately, the timing has to be right and the right decision-makers have to be in the right place. Steve Murray, Broker and Owner of The Maricopa Real Estate Company brought Andy Bhakta, with ABR Consulting, in to meet with new City Manager, Rick Horst in late 2018. Steve and Andy had evaluated many properties but none met all of the hotel developer's needs. Rick suggested the City's Copper Sky Commercial Complex which is being developed for a mix of uses to include dining, office, housing and equally important, a hotel.
Fast forward to September 20, 2019, when La Quinta Inn & Suites broke ground on its 81,990-square-foot (1.88-acre) site in the Copper Sky Commercial Complex. The property, which is expected to open on January 1, 2021, will feature 89 rooms, a breakfast dining area, 730 square feet of meeting space, an indoor pool, a fitness room, a lobby workstation, a market pantry, a guest laundry room, and an outdoor patio.
La Quinta Inn & Suites is a nationally branded, upper-midscale, limited-service hotel and will enjoy a premier location along State Route 347, a major thoroughfare connecting Maricopa to the greater Phoenix region, Pinal County and points beyond.