Who We Are
Maricopa Economic Development Alliance The Maricopa Economic Development Alliance (MEDA) is Maricopa's private-public partnership for economic development. As a 501(c)3 corporation, the organization champions strategies and solutions that foster economic growth and prosperity in the City of Maricopa. It brings together the business, government, education and civic sectors to identify and advance forward-looking policies that facilitate investment, growth and workforce development. MEDA's board is comprised of the leading executives of Maricopa's major business sectors, representing expertise and experience in utilities, finance, development, health care and infrastructure development. Equally important are the elected officials and public sector executives who bring the essential representation of the City of Maricopa's City Council, City Management and Economic Development functions.
Download About Education in Maricopa, July 2019
Download MEDA's FY 2018-19 Annual Report
For more information about Maricopa's outstanding quality of life, please visit www.maricopamatters.com.
Board of Directors
MEDA's board is comprised of the leading executives of Maricopa's major business sectors, representing expertise and experience in utilities, finance, development, health care and infrastructure development. Equally important are the elected officials and public sector executives who bring the essential representation of the City of Maricopa's City Council, City Management and Economic Development functions.
CHAIRMAN - John D. Schurz
President and General Manager Orbitel Communications and Western Broadband
John Schurz is the President and General Manager of Orbitel Communications and Western Broadband, Schurz Communications, Inc.'s Arizona broadband properties. These broadband systems serve the communities of Maricopa, Sun Lakes, SunBird, Robson Ranch, SaddleBrooke and SaddleBrooke Ranch. Mr. Schurz is a fifth-generation executive of Schurz Communications, a privately held family owned and operated business that was founded in 1872.
BOARD SECRETARY - James F. Kenny
President El Dorado Holdings, Inc.
Jim Kenny joined El Dorado Holdings, Inc. in 2007. As president, he directs activity on existing investments and locates new investment opportunities in multiple real estate sectors with a focus on properties where El Dorado can bring its market knowledge and experience to increase value for investors. El Dorado Holdings was the visionary for the City of Maricopa, beginning with the acquisition of the El Dorado Ranch, once owned by John Wayne. Today, El Dorado Holdings is one of Arizona's largest private landowners with assets of more than $1 billion.
BOARD TREASURER - D. Brett Benedict
Director of Financial & Customer Services for Electrical District No. 3
D. Brett Benedict is a solutions-focused Senior Executive and Financial Strategist with more than 25 years of success spanning agriculture and utilities. Leveraging extensive experience in collaborative leadership for both the private and public sector, Brett is a valuable asset for companies requiring expert assistance with finance structuring, negotiations, compliance, saving costs, or organizational development. His broad areas of expertise include financial strategy, accounting and reporting, team building, talent acquisition and management, business development, farm operations, regulatory compliance, and customer service. Throughout his executive career, Brett has held leadership positions with Pinal County, the Maricopa Stanfield Irrigation & Drainage District, Benedict Feeding Company, Monument Farms, and Chickasha Cotton Oil. Since 2005, he has held various roles with Pinal County's Electric District No. 3 and currently serves as the CFO and Assistant General Manager.
DIRECTOR - The Honorable Marvin L. Brown
Councilmember City of Maricopa
Marvin L. Brown and his wife Helen joined the Maricopa community in June 2006. Selected as one of the original members of the City's Merit Board, he stepped down when elected to the City Council in May 2008. As the council representative to the Industrial Development Authority Board and Pinal County Augmentation Authority, and the liaison to the Gila River and Ak-Chin Indian Communities, Brown demonstrates his strong commitment to regional relationships and economic development.
DIRECTOR - Ron L. Fleming
Chairman, President & CEO Global Water
Ron Fleming is the President and CEO of Global Water Resources, Inc. He is responsible for the company's strategic plan and growth, in addition to all corporate business functions and regulated utilities. Mr. Fleming has a Bachelor of Science degree in Construction Management from the School of Engineering at Northern Arizona University, with an emphasis in Heavy Civil and a minor in Business Administration. He has over 15 years of experience in the water and wastewater industry, having both constructed large scale heavy-civil projects working for general contractors and serving as the owner-operator of utility systems. Since joining Global Water in 2005, Mr. Fleming has occupied such roles as Senior Project Manager overseeing Global Water's capital improvement program which deployed over $150 million dollars in infrastructure, to General Manager and President of Regulated Utilities focusing on statewide operations for 12 water, wastewater, and recycled water utilities.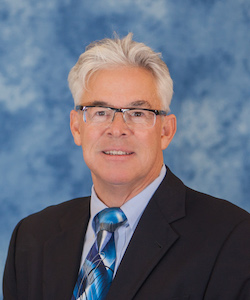 DIRECTOR - Mike Adams
Group President Great Western Bank
Mike Adams, Group President of Great Western Bank is a 38 year banking professional managing offices in Tucson, Maricopa, Casa Grande, Eloy, Coolidge and Globe Arizona. The bulk of his experience is in lending working with family owned, middle market businesses with revenues of $250MM and below and focusing on commercial, manufacturing, investment and owner occupied real estate investment, construction and agricultural lending activities. Mike also spent 8 years of his career on the information technology side of banking managing line units devoted to Treasury Management sales activities and acquisitions over 19 states. Today, Mike manages commercial bankers focusing on commercial, industrial, manufacturing, agricultural, real estate construction (owner occupied, investment & subdivision) lending and deposit activities throughout the State. Mike is a native of California and a graduate from the University of Oregon. He and his wife Krystal and their three kids reside in Tucson.
DIRECTOR - Rick Horst
City Manager City of Maricopa
Rick A. Horst was appointed City Manager for the City of Maricopa, Arizona on June 25, 2018. As the City Manager, he is responsible for the implementation and execution of Council policies, strategic planning, fiscal sustainability and oversight of all city personnel. Prior to his appointment, Rick served as City Manager for cities in Florida, Utah, and California and brings over thirty-five years of progressive experience in the field of public administration with a proven and verifiable record of creativity, innovation, honesty, and as a results oriented leader "who gets things done." Rick is a member of the International City/County Manager's Association and obtained his Credential City Manager certification in 2004.
DIRECTOR - Ryan Hutchison
Senior Planner Banner Health
Ryan Hutchison is the Sr. Director of Strategy & Planning for Banner Health. Mr. Hutchison has been in his role since January 2017, after serving as Director of Process Engineering at Banner Health for four years. He is responsible for the development of the system strategy and planning efforts for all ambulatory services, medical group and pharmacy operations. He also has responsibility and oversight for physician acquisitions in Banner Medical and Banner University Medical groups. As part of his duties, Mr. Hutchison provides support and leadership for Banner Health system's Growth & Innovation committees, lending business evaluation and due diligence support for strategic partnership opportunities and process and operations consultation for the pipeline of Banner's transformative innovation projects.
DIRECTOR - Timothy Kanavel
Economic Development Director Pinal County Government
Tim is the current Economic Development Director for Pinal County having been hired in November 2009 to coordinate and stimulate economic activities within the fast growing county. Reporting directly to the County Manager and working closely with the County Board of Supervisors, Tim's current focus, besides business recruitment, marketing, retention and assisting the various towns, cities and other economic development entities in the county, is the planning, development and implementation of economic policies, programs and relationships that will establish all of Pinal County as a major economic player in the Sun Corridor. In April 2004, he was presented with the prestigious Arizona Association for Economic Development's "Economic Developer of the Year Award" while working for the Arizona Department of Commerce. In April 2017, Tim was presented the "Economic Developer of the Year Award" for the second time – this time as an employee of Pinal County – the first person in the State to have ever received the award twice. In 2018, Pinal County's Economic Development Department was awarded AAED's "Economic Organization of the Year Award – Medium Community."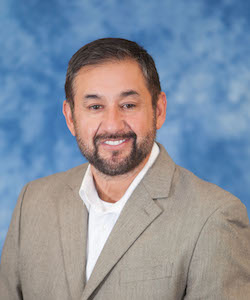 DIRECTOR - The Honorable Robert Miguel
Chairman of Ak-Chin Indian Community
Robert Miguel, Ak-Chin Indian Community, was the first elected Chairman of the Ak-Chin Indian Community under its new Constitution which allowed members of the community to officially vote for their Chairman. An advocate of Education, Health, Water, Economic Development, Elder, and Youth, Chairman Miguel has developed his leadership skills through hard work, dedication and guidance with the support of Ak-Chin elders. Chairman Miguel has represented his community on various committees and boards, in particular; President of the Ak-Chin Preschool Parent Committee, Industrial Park Board Vice-Chairman, Gaming Commissioner and Recreation Board Vice-President just to name a few. Robert was recently selected to sit on the Native American Rights Board (NARF) Board of Directors with the support of founder John EchoHawk. He is currently serving in his third year of his first term as Chairman. Overall, Robert has served on Tribal Council for 6 years.
DIRECTOR - The Honorable Christian Price
Mayor City of Maricopa
Mayor Christian Price has been a resident of Maricopa since early 2005. After moving from Chandler with his wife, they purchased their first home and started a family. Mayor Price immediately got involved with his community by running for his HOA Board of Directors and was president for six years. He is very active in the community and volunteers his time whenever possible to non-profits, churches, the food bank and other service organizations. He was also selected for Maricopa's first Board of Adjustments commission and served as the Vice Chair, before resigning to run for Mayor.
DIRECTOR - Michael L. Richey
President, Maricopa Ace Hardware
Mike Richey is the President of MM Hardware, Inc., dba Maricopa Ace Hardware. Mr. Richey and his wife, Jacquie, acquired the business in 2010, and in the ensuing years, have established a successful business operation that has contributed to the City of Maricopa's economic growth and prosperity. Mr. Richey's business acumen and strong leadership has earned him significant recognition from both his parent company and the community. Maricopa Ace Hardware has been the recipient of the Ace Hardware Pinnacle Award for the last six consecutive years and also is a two time recipient of the Business of the Year Award from the Maricopa Chamber of Commerce.
DIRECTOR - Adam Saks
President and Chief Operating Officer, Dynamic Entertainment Group General Manager, UltraStar Multi-tainment Center at Ak-Chin Circle
Adam Saks has had a stellar career in hotel, hospitality, food service and entertainment venues, with a portfolio of successful achievement across the US and across the full spectrum of global and regional brands in the hospitality, gaming and food service sectors. Mr. Saks' business and civic leadership has included serving as Vice President of the California Restaurant Association – San Diego Chapter (2002 – 2007) and as Vice Chair of the Maricopa, AZ Chamber of Commerce. He currently serves on the Leadership Council of Playworks Arizona; is business chair of First Things First of Pinal County and is a board member of the Maricopa Economic Development Alliance.
DIRECTOR - Daniel J. Wolf
District Manager Southwest Gas Corporation
As District Manager for the Southwest Gas Corporation's Central Arizona District, Dan Wolf is responsible for all facets of management and operations of a natural gas system encompassing a 3,100 square mile service territory and serving over 31,000 customers. In his capacity, Mr. Wolf manages multiple teams comprised of 40 employees and provides the company's primary interface with local, state and federal governing officials. He also represents Southwest Gas Corporation within the Central Arizona business, government, educational and civic community, and is actively engaged in many community, business and economic development organizations in Central Arizona.
Ioanna T. Morfessis, Ph.D.
Senior Advisor to the Board of Directors
As a business and economic development executive, Dr. Ioanna Morfessis has focused her professional life on helping communities and companies thrive and succeed. She founded three best-of-class economic development organizations in the U.S.: Economic Alliance of Greater Baltimore, Greater Phoenix Economic Council and Montgomery County, MD Office of Economic Development. During her tenure in these organizations, her work resulted in 300 successful business locations and expansions, the attraction of nearly $30 billion of private capital investment and the creation of more than 200,000 new direct private sector jobs in these markets.
Dan Weinman
System Vice President Strategy & Planning Banner Health
Dan Weinman is the System Vice President of Strategy and Planning for Banner Health, having been appointed to his vice president role in April, 2009 after serving as the Chief Financial Officer for Banner Health's Arizona Operations.
Mr. Weinman is responsible for the development and execution of Banner Health's Strategic Plan and the development of strategic relationships and partnerships. He has served on several boards including Banner Health Network, Banner Physician Hospital Organization, Sonora Quest Laboratories and Laboratory Sciences of Arizona.   Mr. Weinman also provides support and leadership to several of the organization's system teams and committees dedicated to financial, strategic, clinical and service initiatives.
Prior to joining Banner, Mr. Weinman held progressively responsible positions with Ernst & Young, LLP, first as an Audit Manager and then as a Senior Manager in their Healthcare Consulting Group, specializing in mergers and acquisitions.
Mr. Weinman is a graduate of Michigan State University with a BA in Finance and Economics, and earned his MBA in 1985 from Arizona State University in Finance and Accounting. He also is a Certified Public Accountant.
Lisa A. Russell
Branch Manager II Great Western Bank
Coming Soon